About
Play is the only way the highest intelligence of humankind can unfold.
~Joseph Chilton Pearce
Tools and training are great…
Therapy involves a relationship with a professional who has had years of education, training and experience in different theories, techniques and processes to help people overcome depression, anxiety, trauma related dysfunction, relationship issues, self-doubt and self-loathing… and a host of other problems that people can experience.
Relationships are more important.
All these theories, techniques and tools… they're great, but the research shows us that it's the relationship that is the most healing part of therapy!
A therapist can have a host of credentials, knowledge and expertise, but if you don't feel connected with them or like you can trust them, then therapy will not be productive.
Make sure you do your research and find a therapist who is a good fit for you.
Take advantage of the free telephone consultation most therapists offer.
Get a feel for each one and pick the one who has the expertise you want AND who feels comfortable.
With a good therapeutic relationship and a therapist with the expertise you need, so many good things can come from therapy. These are just a few:
increased self-respect, self-love, self-confidence and self-compassion
greater feelings of empowerment
support for making the tough decision to end a relationship or begin a new one
courage to take a leap of faith and pursue a dream you've always had
more gratifying and fulfilling relationships
greater ability to handle challenges with equanimity (I know. It's a big word. Look it up.)
clarity about your life purpose
better communication skills
positive perspective on life, even when things seem less than ideal
better parenting and more peaceful relationship with your kids
We'll probably work well together if you identify with one or more of the following:
"I've read some parenting books, but I'm just not sure which advice is the best."
"I'm juggling as fast as I can and I can't keep up…I'm exhausted."
"I love my kids, but I'm ashamed to admit sometimes I don't like being a mother"
"I was a great mom before I had kids!"
"Sometimes I yell at my kids. I know it's not right, but they won't listen otherwise.
"I love my kid with all my heart, but sometimes I think I'm screwing this up."
"I don't know who I am without the roles (mother, wife…) I've been filling all these years."
"I know what I should be doing to improve my situation. I just keep f***ing things up."
"Our relationship is just pretty good. I think I have some hang-ups from my past that are interfering with it being stellar."
"I need to get a grip on my anger. It has ruined more relationships than I like to admit."
"The thoughts in my head? They're like someone's yelling at me and they won't shut up!"
"I wish my partner and I could just go back to how we used to be. Life was so much easier then."
"My anxiety is taking over my relationships and I'm afraid I'm going to lose people close to me."
"My heart is broken into a million pieces over this breakup. How will I ever feel good again?"
"Why can't I figure out how to make my life work? The same problems keep happening over and over again."
"I'm successful in some areas, like my career, but I can't figure out how to make my personal life work better."
"There are things I'm afraid to reveal to anyone. I need someone who I can trust and who can help me get rid of this shame."
About Me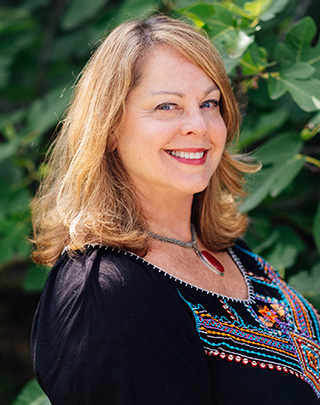 I am a global nomad!
My parents were missionaries and my husband was an oil guy, so I have lived and traveled all over the world. I have a deep appreciation and respect for other cultures and still love to travel.
Second Career & the Golden Thread
I came to therapy as a second career at the ripe young age of 50 after raising my two amazing daughters. When I look back over my various jobs and volunteer positions, lifting people up has been the golden thread that runs through the tapestry of my experience, and it is what I particularly love about counseling.
I love the high fives and hugs I share with clients when they act courageously to create a shift that improves their life. I cherish the tender moments of heartache we share (yes, I cry with my clients) and the triumphs that come with hard work and perseverance.
Through it all, I repeatedly remind myself and my clients to 'trust the process' and have faith that things will work out for the highest good.
Past and Present Learning
My MA is from University of Colorado, and I am currently working on a PhD in Counselor Education & Supervision. I love counseling and I love teaching others how to be the best counselors they can be!
I have a particular passion for kids and because play therapy is the most developmentally appropriate way to work with children, I am a Registered Play Therapist-Supervisor as well.
LOTS of hours beyond my MA have rendered me competent and confident in my work. My ability to connect with you… well, that's just a gift I have 😉
Life Ongoing
When I'm not doing therapy, I'm hanging out at Barton Springs or in Wimberley, reading a good book, enjoying some great live music, playing with friends or my daughters, or working on my dissertation (I should probably be doing that more!)
Patty is great!! Always knows the rights techniques/tips/tricks for any situation!! Gives great suggestions and knows how to make a person feel a little better about them self.
Patty has helped me with self compassion and confidence. I'm starting to feel much better. I'm starting to love myself.
Patty has helped me immensely. She is prompt and extremely caring. The help she provides is fantastic.
Patty is helpful, attentive, and understanding of all situations. She has helped me feel comfortable talking about my problems and finding what is the best resolution.
I have found Patty to be a great support for me through recent challenges. I feel that I can communicate openly with her, sharing my fears and hurts, and she responds with compassion, understanding, and reassurance. She provides a fresh perspective and valuable tools / resources / insights that have led to breakthroughs and huge gains in how I am responding to the challenges I face. It is comforting to know that I can write to her whenever I need to, and that process in itself has been hugely beneficial.
Patty was great. On time and offered great advice and I look forward to seeing her again soon.
Patty has been enlightening to work with; I look forward to continuing to work with her in the future.
Patty's insight and support were incredibly helpful to our family as we dealt with the death of a dear friend. She also provided guidance to me in helping my adolescent daughter through some tough times. Patty has a beautiful soul and is gifted at helping others get in touch with theirs.
Written by an online client who happens to be another therapist:
I wanted to THANK YOU so much for all your guidance, and sharing all the wonderful tools that I will continue to use. I love, Love, LOVE "The Work" and I'm using it DAILY. In addition to your warmth and empathy, this may be the most wonderful gift you could have given me!